This town is photogenic. A few months ago I was passing through and took note of it's appealing character: the winding Ohio River, it's many bridges, hills all around, and a beautiful skyline. I knew it had the makings of a photo shoot and I had it in mind for a revisit … this was it.
The Cincinnati Museum Center has a scale model of the city which is where I started to piece together my picture-taking ambitions. Foremost I wanted to capture some contemporary views which I could superimposed over identical historical images. This I didn't manage to pull off; too ambitious. However, with all the buildings, bridges, river, hills and lights my second ambition was to get some skyline shots. This I did and I had a blast trying to sight my shots.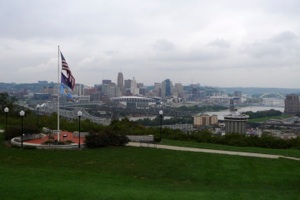 While I didn't get to a few of the better vista points  I did get enough good pictures to come away happy. Finding the night baseball game in process was a real coup!
The next morning was cloudy so after visiting the sites I'd missed at night, I hit the road.
Above you can see what I missed; shooting that would be lovely at night!
I feel a return engagement is inevitable.


by