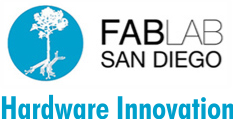 The tech scene in San Diego is relatively healthy I'm learning. However, I'm  finding that software is the predominant theme: web services, mobile apps, etc. Open software is in good shape; open hardware not so much. With all the making talent in San Diego you'd think there'd be more hardware innovation taking place.
Enlightened San Diego Tech Week seems willing to give hardware a try. With urging and support from FabLab San Diego a Hardware Innovation session was slipped into the week's agenda. Modeled after Pitches with Prototypes of MAKE Magazine's Hardware Innovation Workshop we presented a hardware agenda to software folk at EvoNexus.
Acting as MC I kicked things off with the Open Hardware Revolution, providing context for what was coming and explaining why hardware innovation was something worthy of their attention. We followed with presentations from seven innovators and finished with a show-and-tell of a dozen hardware products.
The road is long but this was another step forward in San Diego.


by