It was Beth's idea that for Spring Break Courtney and I should do a road trip and after 26 years I've learned to listen to her. However, a college student is still of a mindset that spending time with Dad is far less enjoyable than romping on a beach with her buddies. Well, I can't say she was wrong in her thinking but I told her I'd try really, really hard to not be boring. In the end and much to my excitement she accepted. The stage was set. 
How then to fulfill my promise of not being boring? Well, I am what I am so where we went and what we did would have to compensate … big time. The biggest concentration of amazing landscapes is around the Colorado Plateau. A good sampling of my perennial favorite road trip (Route 66) could be woven into the trip's fabric as could a few days of sunning so she could return tanned. If I could package all that into a seven day jaunt then we'd be set.
Driving across country was out of the question for her, there was too little time. Instead we would have Courtney fly to Denver where I'd meet her at the airport. From there we'd begin our whirlwind tour which would finish in Phoenix where she'd fly back to school. The general route can be seen below or if it really can't be "seen below" then click on it.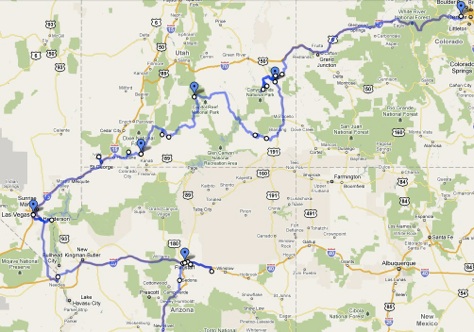 I'm not going to bore you with a detailed itinerary. Instead I'm going to list some of the big parks we visited and then provide a couple themed photo galleries. For any casual reader this should be enough (if not too much!).
We had such a great time … I could wax on with great detail, but I won't.
Major Parks (with links)
Colorado National Monument
Arches National Park
Dead Horse Point State Park
Canyonlands National Park
Natural Bridges National Monument
Glen Canyon National Rec Area
Capitol Reef National Park
Escalante National Monument
Kodachrome Basin State Park
Bryce Canyon National Park
Zion Canyon National Park
Colorado River National Rec Area
Snow Canyon State Park
Hoover Dam (Lake Mead NRA)
Grand Canyon National Park
Walnut Canyon National Mon.
And a whole lot more …
As for pictures, first and foremost was Courtney my amazing daughter:

Second only to Courtney were pictures of the glorious red rock parks:

The pictures above were taken almost exclusively by Courtney. 🙂
The trip was more than I had hoped for … "Thanks Court!"


by