It happens all too infrequently anymore. With Courtney off at UVA and the Kelsey on a different school holiday calendar we have few windows in which to all be together. Winter breaks they have in common so this holiday season Beth made sure we took full advantage of it. Off to Cancun we went!
There's something special about only having one agenda and no distractions. Courtney wasn't trying to run off to see old friends. Kelsey didn't have games or activities or homework to pull her away. We were all "stuck" in Cancun and we were living the relaxing experience together. Sun. Water. Warmth. We had their favorite ingredients in abundance and only wavered from relaxing on two occasions for tours to Isla Mujeres and Chichen Itza.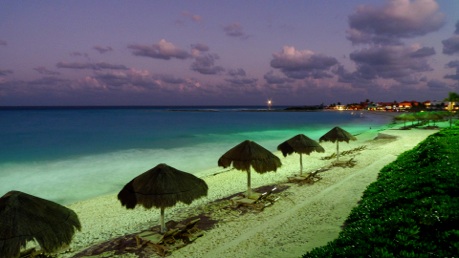 Picture taking was a fun activity. The future award-winning picture above was taken by Kelsey at dusk from the lifeguard station at our hotel. We can thank timing and the hotel beach spotlights for the great lighting. For other pictures of our holiday check here.
Cancun with My Ladies
I just skimmed the pictures below to get an idea of what to write. Funny, I don't think I need to add words as the pictures convey what we did very well. It was fun in the sun from start to finish!


by